Nations Cup: Where Golf Glory Meets Global Bragging Rights
There's a thrill in the air, and it's not just because of the Ryder Cup and Solheim Cup. Introducing the Hole19 Nations Cup, where the passion of golf meets the pride of nations. Swing into the spirit of international competition right from your local course!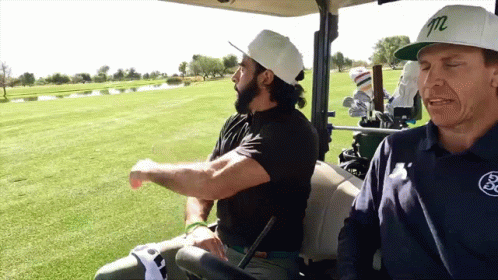 ---
The Pinnacle of Match Play - Explained
Have you ever tuned into the Ryder or Solheim Cup and found yourself mesmerized by the unique format? That heart-racing play where every swing can make or break a match? Well, let's dive into the Game Modes that make it so intriguing!
Singles: One-on-one. It's just you, your opponent, and the course. A battle of nerves and skill.
Four-ball: Pair up! It's two versus two, but only the best ball of each team counts. Teamwork makes the dream work.
Foursome: Still two versus two, but here's the twist: players alternate shots. Choose your partner wisely; you're in this together, for better or worse.
---
---
Nations Cup: A Celebration of Global Golf
During the Solheim Cup week (starting 20th) and leading into the culmination of the Ryder Cup on October 1st, we're opening the golfing arena wide open. And by that, we mean we're unlocking the Game Modes just for you!
The challenge? Battle it out in our match play modes: Singles, Four-ball, or Foursome. Pick your challenge, choose your teammate (if you're going the team route), and let the games begin!
💡
Play in any of our Match Play modes between September 20th and October 1st. Win 40% off Premium if you win, or 20% if you lose.
---
---
How You Stand to Win
Your golfing prowess could snag you some enticing rewards:
Victorious? 40% off on Hole19 Premium Pro awaits the winner or winning team.
Even if the tides don't turn in your favor, fear not. The runners-up receive 20% off!
---
Why Play The Nations Cup?
Bragging rights, for one. But here's the best part: this isn't just about individual or team pride. It's about continental supremacy! Are you Team America, Team Europe, or Team Rest of the World? Let your game declare which continent reigns supreme in the golfing world!
---
Are you up for the challenge?
So, gear up, golfers! Whether it's for the glory of the game, the thrill of competition, or just that cold beer waiting at the end of your round, the Nations Cup promises a September to remember.
Step into the international arena. Swing for glory. Welcome to the Nations Cup.
---
Tee off in the Nations Cup! #hole19
Nations Cup - Terms and Conditions
Eligibility:

The Nations Cup Challenge is open to all Hole19 members. Those already on the Premium plan are not excluded but will be subject to different prize terms as outlined below.

Game Modes Access:

All users will have unrestricted access to Game Modes from September 20th to October 1st. This includes Singles, Four-ball, and Foursome formats.

Winning Terms:


a. To qualify for the discount competition, a participant must play at least one real round in any of the Game Modes.




b. Only real rounds will be considered valid. Practice rounds or simulations will not count towards the competition.




c. Only one match per user will be counted towards the discount competition. Additional matches, while allowed, will not offer additional discounts.

Discount Rewards:


a. Winners of the match will receive a 40% discount on Hole19 Premium Pro.




b. Those who do not emerge victorious in their match will receive a 20% consolation discount.




c. Premium users who win or lose a match will be provided with a discount voucher equivalent to the 40% or 20% discount, as applicable. This voucher can be applied to future subscriptions or gifted to another individual.

Claiming the Discount:


a. To claim the discount, golfers must have a Hole19 profile. If a match was set up by another user and you were added manually, you must set up your own Hole19 profile to be eligible to claim the discount.




b. The prize will only be fulfilled to registered Hole19 users.

General:


a. Hole19 reserves the right to alter, amend, or foreclose the Nations Cup without prior notice.




b. All decisions made by Hole19 regarding the challenge are final.
What is the Nations Cup?
The Nations Cup Challenge is a golfing event where you represent your continent (America, Europe, or Rest of the World) in Singles, Four-ball, or Foursome matches. Winners can score discounts on Hole19 Premium Pro.
How long does the challenge last?
The challenge runs from September 18th to October 1st.
I'm already a Premium user. Can I still participate?
Absolutely! While you already enjoy the benefits of Premium, if you win a match, you'll receive a discount voucher that can be used for future subscriptions or given to someone else.
How many matches can I play?
You can play as many matches as you like during the challenge duration. However, only one match will count towards the discount competition.
What do you mean by "real rounds"?
By "real rounds", we mean actual games played on a golf course, not practice rounds or simulations.
I was added to a match manually. How do I claim my discount?
If you were added manually to a match, you'd need to set up your own Hole19 profile to claim any discounts. The discount can only be applied to registered Hole19 user accounts.
What if I win a match but don't want to upgrade right now?
If you win and qualify for a discount but aren't ready to upgrade, don't worry. You can claim your discount until the end of November 2023.
I've more questions, how can I get in touch?