5 of the Strangest Golf Course Names Ever
Golf is a bit of a strange game. It can excite, relax and infuriate like no other sport on the planet and for this reason, and many others besides, we golfers absolutely love it!
What's slightly stranger still is the collection of weird and wacky golf course names we've heard over the years. Some raised an eyebrow, others a chuckle, but the great thing for us is that each tells its own unique story.
Here are some of the strangest we've ever come across and the reasons behind them. If you can think of any others, we look forward to reading them in the comments below.
What's in a name? Quite a lot as it happens...
Kissing Camels at Garden of the Gods Club - USA, CO
Kissing Camels, though undoubtedly a pretty quirky title, was actually named after the golf course's natural rock formation backdrop which, in one particular spot, looks like two camels kissing.
The course itself at the Garden of the Gods resort offers outstanding views throughout its 27 holes and provides a challenge for golfers of all abilities.
Dismal River - USA, NE
Of all the golfing facilities in the United States, Dismal River might just be one of the most inappropriately named. Okay, we get that it's essentially named after the river itself, but the two contrasting golf courses (one designed by the great Jack Nicklaus) offer up some stunning views and a great golfing challenge.
The Red Course seems like one a few of us here at Hole19 HQ would like to attempt to overcome in the future. Perhaps if we consider our likely 18-hole score, 'Dismal' might not be too far off after all.
Mad Russian - USA, CO
We're no political experts, but if we were to take this golf course name at face value, it might seem a tad inflammatory. You might even be excused for mistakenly thinking it was another Trump Golf facility and the 45th President of the USA had a certain Russian adversary in mind when it was named.
In fact, the Mad Russian Golf Course in Colorado is so-called due to the determination and unwavering attitude of an enigmatic Russian farmer called Ted Blehm. When he was refused membership of the local Golf and Country Club he set about building his own track, only bigger and better.
Perhaps this rewrites a well-known phrase..."if you can't join 'em, beat 'em".
Furnace Creek - USA, CA
This aptly named region is located in Death Valley, the scene of the hottest recorded temperature on Earth (56.7 °C). It's a golf course where heatstroke can be added to the list of many hazards and where an intelligent golfer will place more importance on hydration and high-factor sun cream than they will on getting the correct yardage for the next shot.
We'd advise a tee time at the height of winter when the temperature drops to a more temperate 20C.
Dead Horse Lake - USA, TN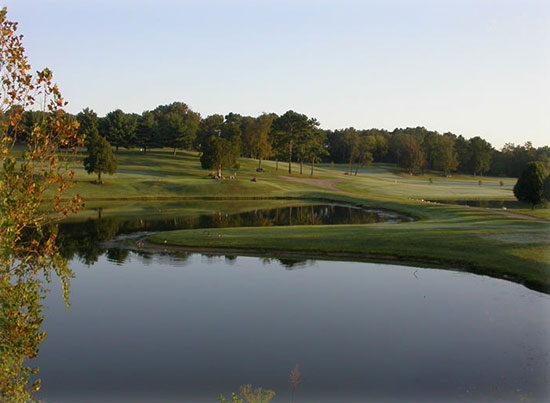 Dead Horse Lake's name comes from a legend telling of an explorer whose horse got trapped in quicksand close to what is now the third hole on this Knoxville golf course. Unable to recover itself from an undoubtedly nasty ordeal, the horse died and its corpse allowed for the formation of a lake.
Should you ever manage a round at Dead Horse Lake and things aren't going your way, remember that, in the grand scheme of things, you had a better day than one unlucky explorer and his loyal steed.
Can you think of any other impressively weird and wonderful golf course names? Let us know below...
We've mapped 42,000+ golf courses to date (some with pretty strange names) via our FREE Hole19 Mobile App and it's jam-packed with features to help you level-up your golf game too. Tap on your app store button below and download today: