Costa del Golf: Course Showcase
Situated in southern Spain, in Andalusia, Costa del Sol is renowned for its cultural and rich gastronomic offerings, as well as its excellent weather and, because of this (and more), it is considered the golfing destination of choice for golf lovers everywhere.

With more than 70 golfing facilities (almost 70% of the Andalusian total), this region has the highest concentration of golf courses in Europe - it's quite easy to see why it has earned the nickname: 'Costa del Golf'.
The exceptional location next to the Mediterranean sea; an average annual temperature of 20 degrees, and more than 320 days of glorious sunshine all lead to  'Costa del Golf' being highly regarded by golf enthusiasts and professionals who are keen to play any time of the year. As a proof of this, the Costa del Sol has received the European golf  destination of the year award from the International Association of Golf Tour Operators (IAGTO).
Quality and Abundance of Courses
The 'Costa del Golf' offers more than 70 different, varied and challenging golf courses, with many of them designed by famous architects, like Robert Trent Jones. Perhaps one of the most famous and revered golf courses in the area is Valderrama. This course has been named as the best in Europe on a number of occasions and was the first course outside of the United Kingdom to host the legendary Ryder Cup.
International golf celebrities - such as Tom Simpson, Michael Campbell, Peter Gustafsson or Cabell Robinson - have also contributed to the design and development of many other golf courses in the region.
Every individual course on the 'Costa del Golf' has its own unique charm, as well as an unwavering guarantee of quality service and impressive facilities at all levels—also, did you know that most of the golf courses are irrigated with recycled water?
Here's a closer look at five golf courses which stand as 'Jewels in the Crown' of golf on the Costa del Sol.
Finca Cortesín
Rated among Spain's best golf courses, including by the prestigious Golf Digest magazine, and being ranked for two consecutive year as Europe's best golf resort - as voted for by users of the 'Leadingcourses.com' website - Finca Cortesin is undoubtedly a must play golf course on the Costa del Sol.
The 18 holes play as individually unique experiences along impressively designed fairways with beautifully shaped bunkers each filled with stunning white silica sand.
Marbella Golf & Country Club
Marbella Golf & Country Club - a Robert Trent Jones Sr designed golf course - is just five minutes drive from the centre of Marbella and extends along one of the greenest areas of the Costa del Sol.
It's an imaginatively conceived facility and makes the most of the natural terrain and a stunning Mediterranean backdrop.
Antequera Golf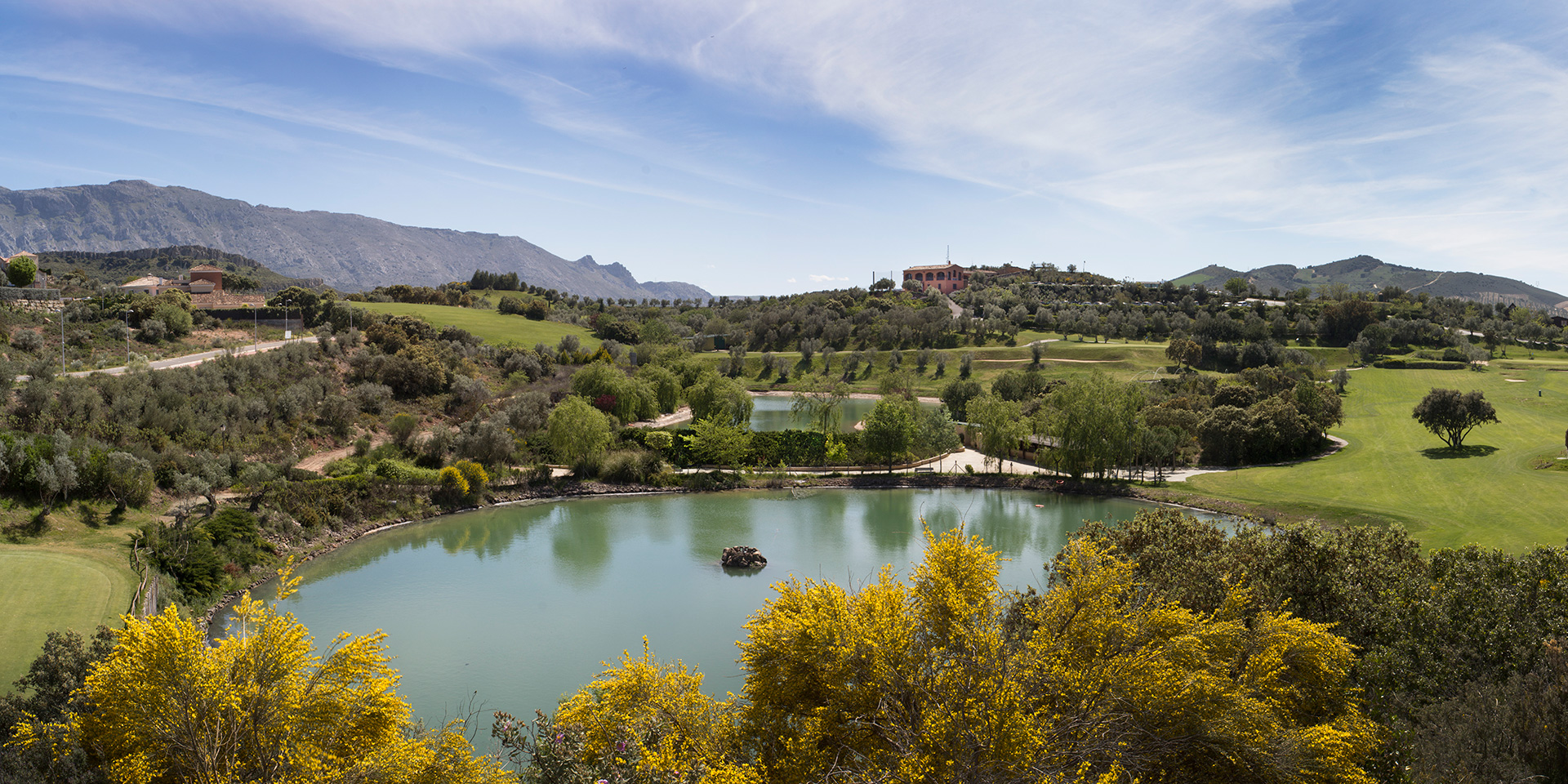 Set in the very heart of Andalusia, Antequera Golf is one of the most popular golf courses on the Costa del Sol.
The stunning quality of both the facilities and the golf course itself are almost beyond compare in the region, with the 18 holes providing a thorough examination of any golfer's game.
Santa Clara Golf Club Marbella
Santa Clara Golf Club Marbella is a parkland style golf course and is located only a five-minute journey from central Marbella and is blessed with many awesome Mediterranean views.
As a facility that caters to all golfing abilities, Santa Clara Golf Club is genuinely one of the best golf courses - not only on the Costa del Sol - but in all of Spain.
Valle Romano Golf
Valle Romano is centrally located in Costa del Sol and the magnificent golf course plays host to many renowned tournaments throughout the year. Coming highly recommended by the late, great Seve Ballesteros, its high-quality status is undeniable.
Costa del Golf in 360º
It's said "a picture paints a thousand words", especially if it covers 360 degrees of vision! Well, with this ambitious project, Costa del Sol 360, you can take a virtual tour through all golf courses in the region in a full 360º - without moving from your couch - and choose the one you'd like to visit the most. Awesome, isn't it?
This panoramic experience will also allow you to discover relevant data on the 70+ golf courses in the Costa del Sol, such as: designer, year of construction, number of holes, tours, etc. An extraordinary opportunity to appreciate some of the best designs in the world, such as the Real Club de Golf Las Brisas or the Real Club de Golf Sotogrande, designed by the great Robert Trent Jones.
Take a look at all of the high-quality golf courses in the Costa del Sol and discover why it has more than earned its title of the 'Costa del Golf' 😉.