Hole19's Golfing Naughty Or Nice List 2018
As Christmas approaches, we've been getting all festive here in the Hole19 office and talk quickly turned to who's been naughty or nice in golf this year.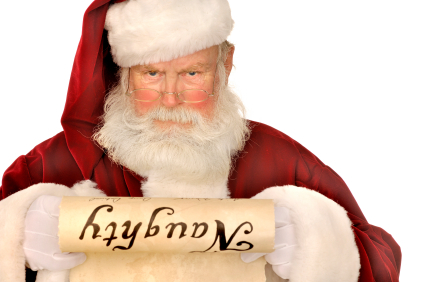 To lend Santa Claus a helping hand as he gets ready to slide down the chimneys of some of golf's biggest names during this extremely busy period, we decided to compile our own mini list of some highly deserving golfers - as well as those who have could be facing a metaphoric lump of coal - as Christmas Day approaches.
We've made a list, and we've checked it twice, check below to find out who's been naughty or nice during 2018...
The Nice List
Rickie Fowler
It's almost impossible not to like Rickie Fowler. He's a great golfer and, more importantly, just a really good guy. The current world number nine is seen as one of the best on Tour never to win a major and here at Hole19 HQ we back him to shed that tag in the not too distant future.
Getting back to our list, he can rest easy this year knowing that 'Old Saint Nick' had him on the 'Nice List' early doors. Back in January of this year, Rickie was voted the 'Best-Mannered Golfer on Tour' and, apparently, the accolade was enough to cancel out this pretty shocking moment he and his golfing buddies unleashed on an unsuspecting public back in 2013...
Francesco Molinari
Francesco Molinari's stunning year on the golf course just seemed to get better and better. Impressively consistent form on both sides of the Atlantic was carried through to Carnoustie where the Italian would break his maiden duck, and we couldn't have asked for a more deserving or popular champion.
His Ryder Cup exploits alone would have been enough to get him on to the 'Nice List' with all the other good boys and girls, but when you look at the season as a whole you realise just how special it has been for 'Frankie'.
He will need to keep his fingers crossed that Santa missed this heart-breaking post-Ryder Cup moment though. Poor Tommy...
When Fleetwood gatecrashes Molinari's @skysports masterclass 😂😂#BritishMasters pic.twitter.com/mY1zmivWgt

— The European Tour (@EuropeanTour) October 11, 2018
Matt Kuchar
Father Christmas doesn't even bother checking up on the man they call 'KKKUUUUUUCCCCHHH'... it's as certain as death or taxes that the likeable Georgian will have behaved impeccably throughout the year.
A guy who puts this much effort into not swearing on the golf course is going to breeze onto our 'Nice List'...
Golf's Lawmakers
After a lengthy consultation last year, the news came that golfers around the world had been waiting for: finally, the rules of golf were set for an overhaul.
The planned changes are due to come into force on 1st January 2019 and, generally, they seem rather logical and have been well-received by most in the game.
Rick Shiels gives us five rules changes we all need to know...
The Naughty List
Phil Mickelson
Usually quite a likeable sort, this year Phil Mickelson makes the 'Naughty List' after rather embarrassingly losing his cool during the U.S. Open at Shinnecock Hills back in June.
While in the middle of a pretty torrid round, the five-time major winner misjudged a putt on one of the glass-like surfaces and watched with disgust as his ball threatened to race off the green entirely. As the red mist descended he then proceeded to bash the ball back up the green toward the hole before it had come to rest.
'Lefty' paid with a two-shot penalty, though some commentators felt he should have been DQ'd. Either way, he was straight to the top of the 'Naughty List' after this moment of madness.
Tyrrell Hatton
Despite being one of the most popular golfers on Tour, Tyrrell Hatton is, as most of us will have witnessed, a rather hot-headed golfer on the course.
The Englishman has been called out on his temper on numerous occasions this year alone. One such episode took place just a few weeks ago at the World Cup of Golf in Melbourne, Australia.
We've all played with that one guy who loses it - it's never fun!! 'Naughty List' for Tyrrell...
No #FridayFeeling for @TyrrellHatton as England sit two shots off the lead at the World Cup of Golf.

More: https://t.co/Vv0PEfKUSa pic.twitter.com/DOQEmzb951

— Sky Sports Golf (@SkySportsGolf) November 23, 2018
The USGA
Watching professional golfers wrestle with course conditions while struggling to break par can actually be an enjoyable viewing experience for many golf fans, but this year's U.S. Open at Shinnecock Hills took that notion just a little too far.
With that said, they did do some good this year with the announcement of new rule changes alongside the R&A. We're going to leave the final call to the main man on this one...
Bryson DeChambeau
Having enjoyed the best season of his fledgeling career on the PGA Tour, it may seem a little unthinkable that Bryson DeChambeau would find himself in the wrong column of a golfing Naughty or Nice list this year.
With four separate tournament wins - including two lucrative FedEx Cup Playoff events - the 'Mad Scientist' has done plenty to raise his own profile, and that of the one-length irons he loves so much.
Though that's undoubtedly the case, failing to properly shake a victorious opponent's hand post-round is pretty poor by DeChambeau. That alone has him straight into Santa's bad books.
Whether his apology a few days later is enough to get him back onside, he will have to find out on Christmas morning...
The controversial Bryson DeChambeau "HANDSHAKE" after losing to Richard McEvoy. What do u think? Mistake, poor sportsmanship, or a new scientific anti bacterial no touch method?! Personally think he strode over there and took off hat so don't be too harsh. Tnx: NG. pic.twitter.com/58B5utYZMP

— GolfCentralDaily | Doc (@golfcentraldoc) July 30, 2018
Which other golfers do you think should make the 'Naughty List' this Christmas? Let us know below...
You can give the gift of Hole19 Premium this Christmas (or nudge that special someone in the right direction) with our gift vouchers.
Looking to level-up your golf game as we head into 2019? Download the Hole19 golf app for FREE today by clicking on your app store button below.