Rory McIlroy's Highs and Lows in 2019
The 2018/19 PGA season came to an exciting climax at East Lake Golf Club on Sunday as Rory McIlroy outlasted both Brooks Koepka and Justin Thomas to win the FedEx Cup title and a cool $15,000,000.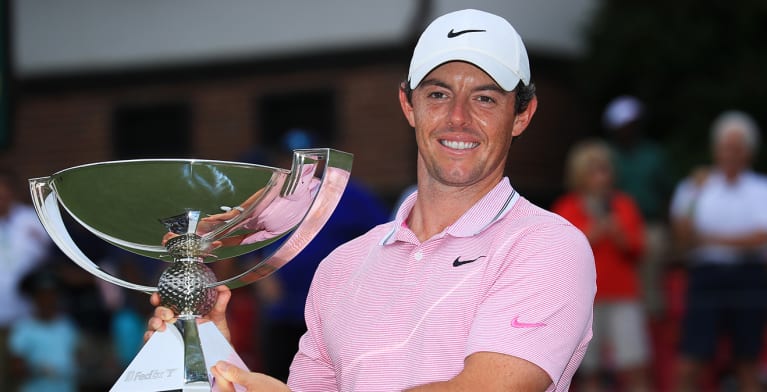 The new world-number-two has recorded many highlights during the 2018/19 PGA Tour season. In the same 12 months he has also encountered a few disappointments so below we take a look at the highs and lows in a year in the life of Rory McIlroy.
High #1: THE PLAYERS Champion
Back in March, Rory rocked up at TPC Sawgrass as probably the most consistent player in the game and would end the week having captured his first PGA Tour victory in a full calendar year by winning THE PLAYERS Championship - the game's 'unofficial fifth major'.
Notoriously one of the hardest golf tournaments to win, this was a great early-season confidence boost for the four-time major winner and had the whole golfing world discussing the chances of a victory in Augusta, Georgia just a few weeks later.
Watch how Rory played 18 during his final round to secure THE PLAYERS...
Low #1: Another Masters Slips By
If you look into Rory's early-season statistics, you'll find that the Northern Irishman finished within the top-10 in nine of his first ten events. The one tournament he failed to post a top-10? Yep, that's right — the Masters.
Every April the global golfing public watch intently to see whether Rory can join the quintet of golfers who have managed win each of the four golf majors. Needing only a Green Jacket to complete the career grand slam brings undoubted pressure, and on this occasion, he finished back in 21st position. There will be plenty more chances we suspect.
Rory discussed his desire to close out the career grand slam pre-Augusta...
High #2: Canadian Open Champion
Rory's widest winning margin of the year came at the RBC Canadian Open finishing a full seven strokes ahead of the field at Hamilton Golf & Country Club.
His -22 total over the four days' play was the lowest winning total in the history of the event. Coming into Sunday sharing the lead with Matt Kuchar and Webb Simpson Rory quickly asserted before finally signing for a stunning final round 61.
Low #2: Homecoming Falls Flat
After an absence of 68 years, The Open Championship returned to Northern Ireland and much was expected of Rory when he arrived at the stunning Royal Portrush Golf Club.
The first day of play was uncharacteristically wayward, and he struggled to an opening 79. What followed was one of the bravest, most emotional single rounds in recent Open Championship memory as Rory attempted to move heaven and earth to make the cut. He would ultimately miss out by a single stroke.
High #3: The 15 Million Dollar Man
At last week's TOUR Championship, a mixture of impressive golf from Rory and a flailing final round performance from Brooks Koepka meant the FedEx Cup was destined for one man only.
A $15M paycheque was the culmination of a year of great golf and confirmation of the fact that he's just about the most talented and consistent golfer in the field today. More majors are bound to follow, and he will hope one of those will come at Augusta National before too long.
Catch a reminder of the winning putt below...
Low #3: Brooks Pips Rory to POTY Crown
Despite Rory's perfectly timed season-ending surge, current world number one Brooks Koepka was the man chosen by the PGA of America as their Player of the Year (POTY) for 2019.
Before the TOUR Championship win, there was little doubt that Brooks would be crowned as POTY however some weren't convinced. Rory impressed with his trio of wins and collection of top tens, but he still fell short of stopping Koepka becoming the first back-to-back POTY since Tiger Woods in 2007.

What do you think about Rory McIlroy's last 12 months on Tour? Should he have won the PGA Player of the Year title ahead of Brooks Koepka? Let us know in the comments.
For more highs than lows in your own golf game, join Hole19 FREE today by clicking your iOS or Android button below. You can also learn more about the game-enhancing benefits of Hole19 Premium.