Live the dynamism of Boston
While full of pride in its history, Boston is very much forward-looking. The North-American city is considered exciting and dynamic; a place where it's always possible to experience something new.
The classic architecture and visible monuments in Boston illuminate a city that helped found a country and has always been a center of education, science, and culture. There are prestigious universities and a cutting-edge technology industry. In addition to the Freedom Trail, the Natural History Museum and the Isabela Gardner Museum are tourist attractions not to be missed. Similarly, the top of the Prudential Tower offers you a privileged panoramic view of the city.
With strong folk traditions linked to Irish immigration and an academic and multicultural environment, Boston lives the neighborhood life and praises the arts, music, and sport. The population gathers around baseball, basketball, regattas, and a large annual marathon (the oldest in the country). And there is no shortage of excitement with museums, galleries, theaters, and countless nightlife venues.
TAP Air Portugal will inaugurate the Ponta Delgada - Boston route on June 4. For this new route, there are five scheduled weekly flights.
Golf near Boston
Newton Commonwealth Golf Course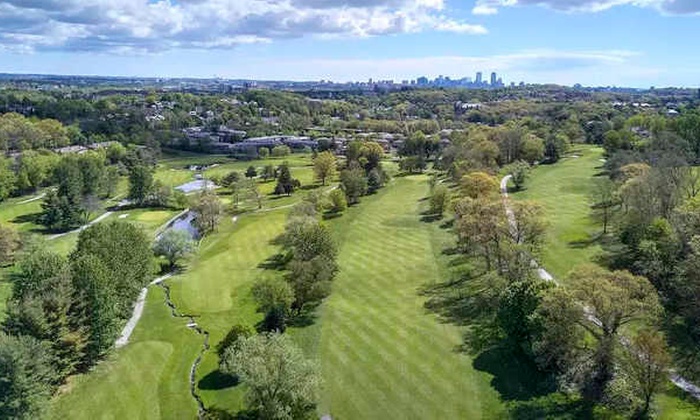 Newton Commonwealth Golf Course is a beautiful, exceptionally groomed, 18 hole public course located just minutes from downtown Boston. 1997 marked the centennial anniversary of the club, which was redesigned in 1920 by the renowned architect, Donald Ross. It offers a short, but challenging round of golf featuring quick greens and relatively narrow fairways. Course management is essential, as many a big hitter has discovered, with water and sand bunkers appearing frequently.
Fresh Pond Golf Course
Fresh Pond is an environmentally pleasing, 9-hole, public golf course that plays throughout a corner of Cambridge's Historic Fresh Pond Reservation just minutes outside of Boston. The Course, through its naturalized layout, challenges all abilities of play with well defined hazards, water coming into play on 4 holes, two Par 5s that utilize your entire bag and gentle greens that won't make your hair turn gray!
Woodland Golf Club
By 1901 the founders of Woodland constructed the club's first true golf course – a nine-hole layout measuring 2619 yards. By 1907 the club built its first 18-hole course, measuring 5623 yards with nine holes on each side of the railroad tracks. In the 1920s Donald Ross was commissioned to redesign the existing layout. While Wayne Stiles is the architect of record, there is no question that Ross spent considerable time working on the Woodland remodeling. Ross' contouring, bunkering and routing affected 9 holes. His most important contribution, however, was the course routing, which remained largely unchanged until the early 1960s, and even then was incorporated into the "new Woodland". In 1960 architect Geoffrey Cornish (noted for his work at The Country Club and Myopia Hunt Club, among others) undertook a massive hole-by-hole redesign of the golf course.
For the past few years, golf course architect Stephen Kay has assisted in the development and implementation of the golf course master plan. turning the club's 135 acres into a uniquely enjoyable golf course. One hears it over and over: You never get tired of playing Woodland.