U.S. Open 2019: Our Top 10 Players To Watch & Tee Times
Just a mere four weeks since the PGA Championship at Bethpage Black, the third major championship of 2019 is now upon us as the U.S. Open returns to one of the most iconic golf courses in the world - Pebble Beach Golf Links.
To help get us all in the mood for what promises to be four days of great golf on the Californian coast, we've been considering our 'top-10 players to watch'. Check out who we'll be keeping a close eye on below...
(All tee times are EST)
10. Brandt Snedeker - (T) 4.25pm (F) 10.40am w/ H Stenson & J Furyk
Brandt is coming into good form just at the right time with a solid performance at last week's RBC Canadian Open.  This, coupled with the fact that there are few better with the short stick on Poa Annua greens, means he drops onto our list in 10th spot.
It might be a surprise to many if he managed to grab a maiden major title this week, but we do think he'll perform well.
9. Phil Mickelson - (T) 11.13am (F) 4.58pm w/ D Johnson & G McDowell
Given the fact that Phil is edging ever-nearer to his half-century, it might be hoping beyond hope that he could join the gang of five golfers who have managed a career grand slam by taking the U.S. Open trophy this week.
Nevertheless, he thrives on the Monterey Peninsula as evidenced by his three-shot victory at the AT&T Pebble Beach Pro-Am back in February and this week could bring the best chance yet to seal the deal. We won't rule him out too hastily.
8. Jason Day - (T) 11.02am (F) 4.47pm w/ S.W. Kim & R Fowler
Given the firm conditions at Pebble Beach, the champion come Sunday evening will need to have displayed a solid short game to get over the line. As we all know, there are few better in the business in this respect than Jason Day.
With one of the best short games in the world, if he can keep the ball in the short stuff from the tee, he could have a great chance this week.
7. Matt Kuchar - (T) 4.47pm (F) 11.02am w/ A Scott & W Simpson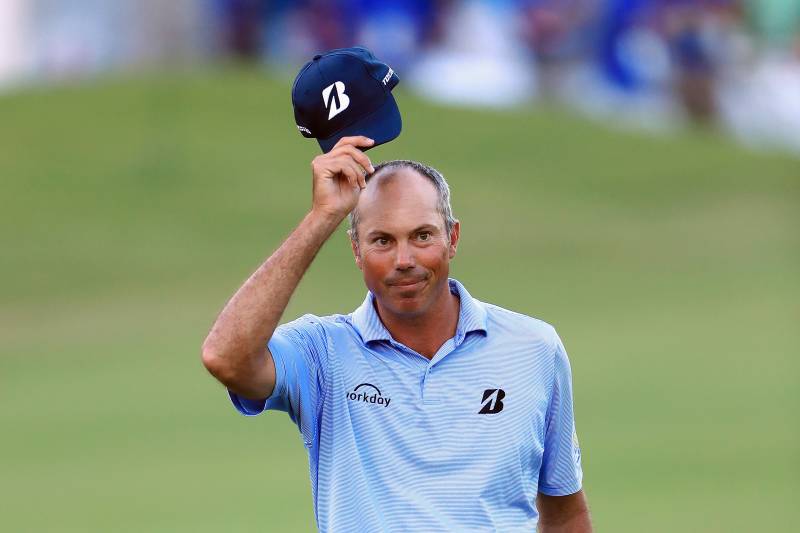 Once viewed as one of the nicest men in golf, Matt Kuchar has been caught up in a few controversies which seem to have dampened his popularity a little amongst global golf fans. Whether this is of any concern to the world number 12 is anyone's guess, but his play during the majority of 2019 suggests he's taking it all in his stride.
He sits atop the 2019/2020 FedEx Cup standings thanks to wins at the Sony Open and the Mayakoba Classic. The second place at Royal Birkdale in 2017 is as close as he has managed so far in major championships but, despite already being in the 40-club, Matt has the game to get his maiden title before too long.
6. Jordan Spieth - (T) 5.09pm (F) 11.24am w/ T Woods & J Rose
It's great to see Jordan back to playing some of his best golf. Three top-10s in as many outings suggest that he's finally managing to find the answers to the questions over his previous worrying lack of form.
His putting, in particular, seems to be getting back to somewhere near the 2015-2017 levels where it seemed like he simply couldn't miss from inside 25ft. If the short stick keeps behaving, there's every chance he could improve upon his T-3 at last month's PGA Championship.
5. Tiger Woods - (T) 5.09pm (F) 11.24am w/ J Spieth & J Rose
Despite having his troubles with this particular course through the years, one of Tiger's most famous major victories came at Pebble Beach at the turn of the century when he demolished the field by a record 15 strokes.
We can see his game being very well suited to the fast, firm conditions the players will face at this year's U.S. Open, and that could pave the way for a 16th major championship. Does he deserve to be higher on our list? Very possibly. Can Tiger be ruled out with any degree of certainty? Most definitely not.
4. Xander Schauffele - (T) 11.24am (F) 5.09pm w/ M Wallace & C Smith
In four of his last major appearances, Xander Schauffele has finished T-2 on two separate occasions, and he settled into a T-6 position during last year's U.S. Open at Shinnecock Hills.
There are many highly-skilled golfers in the this year's U.S. Open field who have yet to win a major, but, if Xander stays on that particular list much longer, we'll eat our proverbial hats! We expect to see a strong showing.
3. Dustin Johnson - (T) 11.13am (F) 4.58pm w/ P Mickelson & G McDowell
Dustin Johnson returns to Pebble Beach this week seeking to put the ghost of his 2010 meltdown firmly to rest. Finishing up his third round with a three-shot lead, DJ then suffered a disastrous final round 82 which would halt his march towards a maiden major title. He would need to wait six years to put finally his name on the U.S Open trophy.
Finishing second at Bethpage Black, and tied second at Augusta National, confirms that he is well-equipped to feature in every major championship he contends. A second title is undoubtedly just around the corner, and with two wins around this track previously, he could be a hard man to beat.
2. Rory McIlroy - (T) 7.51am (F) 1.36pm w/ J Rahm & M Leishman
Rory McIlroy demolished the field at the RBC Canadian Open in the past week after posting an effortless 61 on his way to a seven-shot victory. It was a second win of the PGA Tour season after capturing The PLAYERS Championship back in March.
If he is to prevail and hoist the U.S. Open for the second time, Rory will have to overturn a trend of missing the past three U.S. Open cuts on the trot. Carrying his impressive play over from the fairways of Hamilton Golf & Country Club to those of Pebble Beach should guarantee a real chance of a fifth major title.
1. Brooks Koepka - (T) 1.47pm (F) 8.02am w/ F Molinari & V Hovland (a)
In golf, as with many other sports, when considering possible winners it's essential that you pay heed to 'horses for courses'. With Brooks, we will immediately ignore that advice because, irrespective of whether there are golfers with better form around the golf links at Pebble Beach, the current world number one is the only golfer we considered to head our list.
It could be a lazy choice, but here are a few of our reasons: he's on for a three-peat; he has a 50% strike rate in his last eight major appearances; he's got unwavering mental strength; he's world number one. Putting all that together... he's just impossible to ignore.
FYI: You can find a full list of the R1/R2 tee times here.
Let us know who you'll be cheering on this week in California and call us out on any obvious omissions in the comments below.
Don't have the Hole19 Golf App just yet and looking to 'Master' your own game? The FREE Hole19 Mobile App is packed with features to help you make this golf season your best yet. Tap on your app store button below and download: